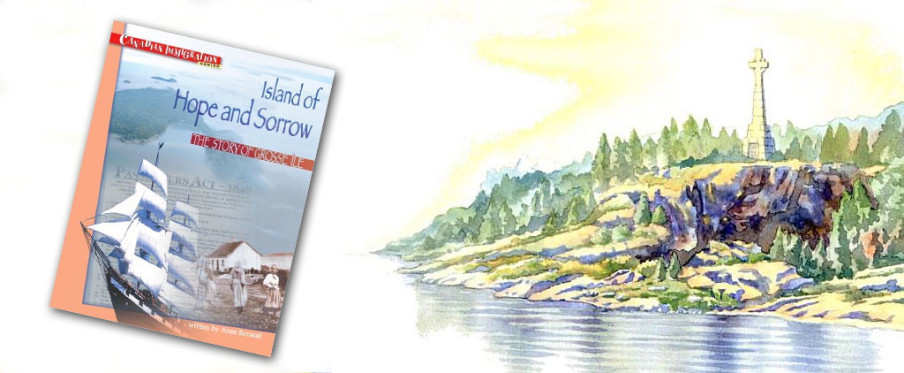 Island of Hope and Sorrow: The Story of Grosse-Île
Intended audience: 9-12 year olds
Number of pages: 24
This book can be ordered from me directly: earenaud@yahoo.com
From 1832 to 1937 more than four million people sailed across the Atlantic to the port of Quebec with the dream of creating better lives for themselves in the New World. During this period, a tiny island called Grosse Île, located fifty kilometres downstream from the port, served as a quarantine station. Its mission was to prevent ship passengers from spreading diseases to the mainland. This is the story of the island, which served both as gateway and graveyard for thousands of people, and of the caring island workers who welcomed them to its shores.
Through the course of my research for this book, I sailed a replica of an immigrant ship called the Jeanie Johnston from Montreal to Quebec City, with a stop-over at Grosse Île. You will find out more about this ship on page 13 of my book. It also appears on my book's cover.
Another exciting thing that happened while I was researching this book was discovering that the ship on which my grandmother sailed from England to Canada in 1907, had made a stop at Grosse Île. Before writing this book I did not know I had a personal family connection to this island, which served both as gateway and graveyard to thousands of hopeful immigrants.
REVIEWS
"… accessible and engaging … a powerful and moving account of a little island of great historical significance." –
Montreal Review of Books, Spring/Summer 2007
"Renaud, whose first book, A Bloom of Friendship, was shortlisted for several awards, packs a great deal of knowledge into an accessible history that's well suited to strong readers ages 8 and up." – Quill & Quire, May 2007
"… portrays the human side of immigration … This book is a must have …" – CM: Canadian Review of Materials, April 2007
"… an absolute treasure … Island of Hope and Sorrow is a book I strongly recommend as required reading for history teachers and students of all ages." – NUACHT, Newsletter of the St. Patrick's Society of Montreal, May 2007
"… a beautiful book quite accessible to a young audience yet with appeal to the older set as well … will be of interest to students of Canadian history as well as descendants of the many immigrants who came through Grosse Île … I would highly recommend it as an addition to all school and public libraries." – Resource Links, April 2007
"… a fascinating story … a must-have for every school library." – Quebec Home & School NEWS, June 2007
AWARDS
Shortlisted, Ontario Library Association Red Maple Birch Reading Program Award (2009)
Selected, Resource Links: "The Year's Best" (2007)