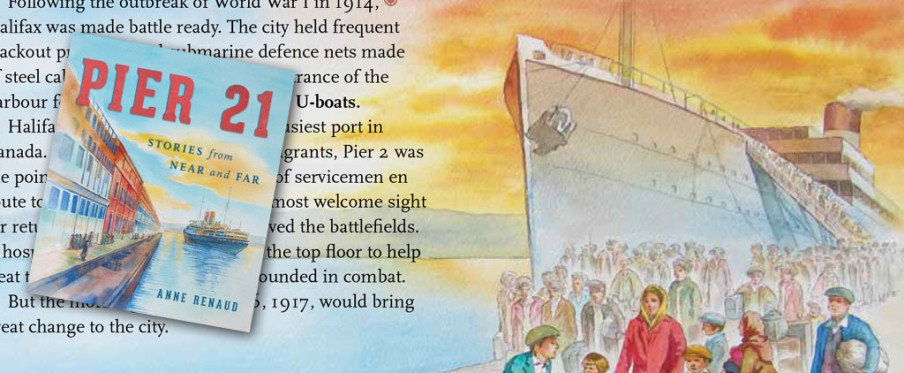 Pier 21: Stories from Near and Far
What would you do if you had to leave your homeland and move to another country? Would you be able to speak the language? Would you fit in and make new friends? What would you bring, if you could only take one suitcase with you?
From 1928 to 1971, the immigration shed at Pier 21 welcomed over one million newcomers to Canada and saw half a million Canadian soldiers off to war during World War II. It is Canada's only surviving immigration shed, and in 1999 it re-opened as a museum and research centre.
What I hoped to convey to young readers in this book was not only the important role immigration has played in the building of Canada, but also how varied the immigrant experience was from one decade to the next.
I also make it a point to include in my books, voices or stories that would otherwise be lost. Part of my research for this book focussed on finding voices of people who had come through Pier 21 as children or teenagers. I felt their stories would be of greater interest to young readers, as they could more easily relate to the experiences of children their own age. I was fortunate to be able to preserve many such voices in my book.
REVIEWS
"Photos of people, places, newspaper clippings, and artifacts, along with Cheung's colorful original illustrations, help readers visualize each event or wave of immigration … the book offers many intriguing details of twentieth-century history, seen through one historically significant Canadian site." –
Booklist, April 2008
"… Renaud captures the human side of immigration … She has the gift of succinctly capturing events with poignant and evocative language … she has once again produced a tour de force … a feast for the eye and an excellent historical account that will enhance and support the social studies curriculum. Highly Recommended." – CM: Canadian Review of Materials, May 2008
"Anne Renaud has the knack of presenting Canadian history to young people, in this case the eight-to-10 set. She combines historical narrative, interesting facts, and archival evidence in the form of documents and photos, to create an enjoyably immersive experience for young history readers. … enhanced by the reminiscences of individuals who remember their arrival in Canada, the book feels like a visit to a particularly interesting museum."– Montreal Review of Books, Spring 2008
"… the second book in the Lobster Press series chronicles in short, concise snippets the rich history of the immigration shed on Halifax's waterfront that stands today as a national historic site and museum … She sees her stories as one way of preserving the past or the 'little testimonies,' as she calls them, 'that would otherwise be lost.'" – Chronicle Herald (Halifax), April 2008
"A fact-filled book for young people … a surprisingly detailed resource that brings the dock's rich history to vibrant life. Enthusiastically recommended for children's library Canadian History shelves." – Midwest Book Review, September 2008
"… a great addition to Canadian social studies programs [which] should serve as a springboard for further research into the multicultural nature of Canada's present population. I would recommend this book for all school and public libraries. Rated E for Excellent." – Resource Links, June 2008
"… succeeds in sparking children's imaginations while teaching them about our country's history." – McGill Daily News, March 2008
"Rather than give straight, boring facts, Renaud details interesting information through compelling accounts of the people who arrived at Pier 21 … puts a human face to immigration and war." – The Well-Read Child Blog
2008 Raise-a-Reader pick (Chronicle Herald) – feature noted that "Every Nova Scotian child should know what Pier 21 is and the thousands of fascinating stories that it holds … your child will no doubt be fascinated with Canadian history." 
AWARDS
Shortlisted, Quebec Writers Federation Prize for Children and Young Adult Literature (2008)
Shortlisted, Hackmatack Children's Choice Book Award (Atlantic Canada, 2009)